Check Out These Popular Products!
Select to view these training equipment catalog:s
Award-Winning Curriculum Included
LearnLab Trainers include the Curriculum in PDF format. You can print as many student workbooks as you need!
No more workbooks to buy!
You also get a matching PowerPoint, Classroom Hands-outs, and Instructor Notes! Our curriculum is now available in 15 languages!
In Stock & Ready to Ship
Our products are in stock and typically ship the same day they are ordered! No need to wait.
Please contact us for a personalized sales quote, especially if you are interested in ordering four or more training systems. We make deals!
Our training systems and equipment can be in your classroom, ready and working for you within a few days. We are the manufacturer!
We Strive to Boost Skill Sets
LearnLab Training Systems help maintenance workers gain fundamental skills that will increase their productivity in a very short amount of time.
Using LearnLab's training systems, you will see a boost in employee productivity, student knowledge retention, and overall performance improvements!
Fast Repairs Equal Reduced Downtime!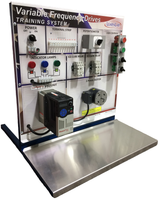 NEW! Allen-Bradley PowerFlex 5 Series Training System
Includes curriculum for Allen-Bradley PowerFlex 5 series of Variable Frequency Controls! 
Get Yours Here
Sample Curriculum
Free LearnLab sample curriculum downloads! Download as many as you'd like. Each sample contains four pages of curriculum.
Click here for your free samples